Return to Headlines
Dr. Ed Nichols Officially Becomes Madison City Schools Superintendent
Madison City Schools officially has a new schools superintendent.
The Board of Education approved a three year contract for Dr. Ed Nichols to lead Madison City Schools. He replaces Robby Parker, who retired Feb. 28.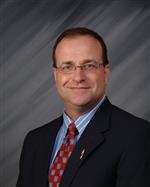 Mayor Paul Finley, Madison Council President Steve Smith and Madison County Commissioner Steve Haraway attended the meeting to welcome Dr. Nichols and support Mayor Finley in awarding a city coin to Assistant Superintendent Eric Terrell.
The commemoration is awarded individuals who make a positive impact to the community in some way.
Finley said Mr. Terrell served admirably as Interim Superintendent, guiding the school system through the COVID-19 shutdown. "I don't think you could have come in at a tougher time," he said. Mayor Finley said Mr. Terrell's leadership included making some tough calls that in the end helped miminize the spread of COVID-19 in the community.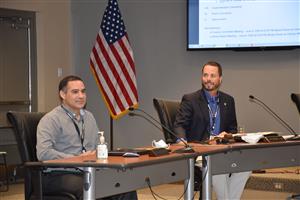 Luis Ferrer, vice president; and Tim Holtcamp, president
The Board meeting also marked a leadership change in the board. Tim Holtcamp took the gavel as Board President following Ranae Bartlett's leadership these past several years.
Luis Ferrer assumed Mr. Holtcamp's role as Vice President of the Board. Ms. Bartlett has one year remaining of her second five-year-term. Holtcamp was just reappointed to his second five-year term.

Board members all welcomed Dr. Nichols with confidence he will lead Madison City Schools to even greater heights. Dr. Nichols thanked the board for its confidence and said he looks forward to serving.
Dr. Nichols retired as superintendent of Decatur City Schools in 2016 after a 28-year career there that included band director, principal, assistant superintendent and four years as superintendent.

He had since been active in multiple roles including director of the Principally Speaking Network, community and media consultant for Decatur Hospital, and two consulting services. He said in his interview he loves working with people and is eager to serve.
"I am excited about joining the Madison City Schools family. It has a rich tradition of excellence and I am honored to have been selected to lead the district," Dr. Nichols said in a statement.

Dr. Nichols has already been meeting with key staff and school leaders and created a task force to map out the plan for re-opening. He said he wants to hear from parents, students teachers, staff and being part of the community.
Assistant Superintendent Terrell resumed his post after serving as Interim Superintendent since Superintendent Parker's retirement Feb. 28.

Dr. Nichols becomes the fourth superintendent for Madison City Schools since the system was formed in 1998. He served several months as interim superintendent for Madison City Schools when Dr. Dee Fowler retired in late fall 2016.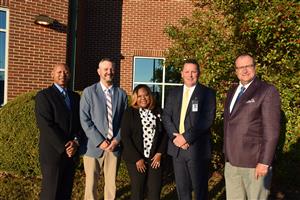 Madison City Schools Superintendent Dr. Ed Nichols and BOE President Tim Holtlcamp (front) with BOE members, Mayor Paul Finley, Council President Steve Smith, County Commissioner Steve Haraway and Assistant Supt. Eric Terrell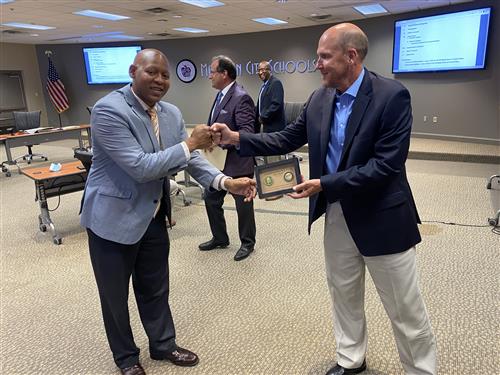 Assistant Schools Superintendent Eric Terrell, left; fist bumps Mayor Finley in presentation of City Coin for Terrell's leadership through COVID-19.